Facility Decommissioning of Hoosier Energy's Ratts Generating Station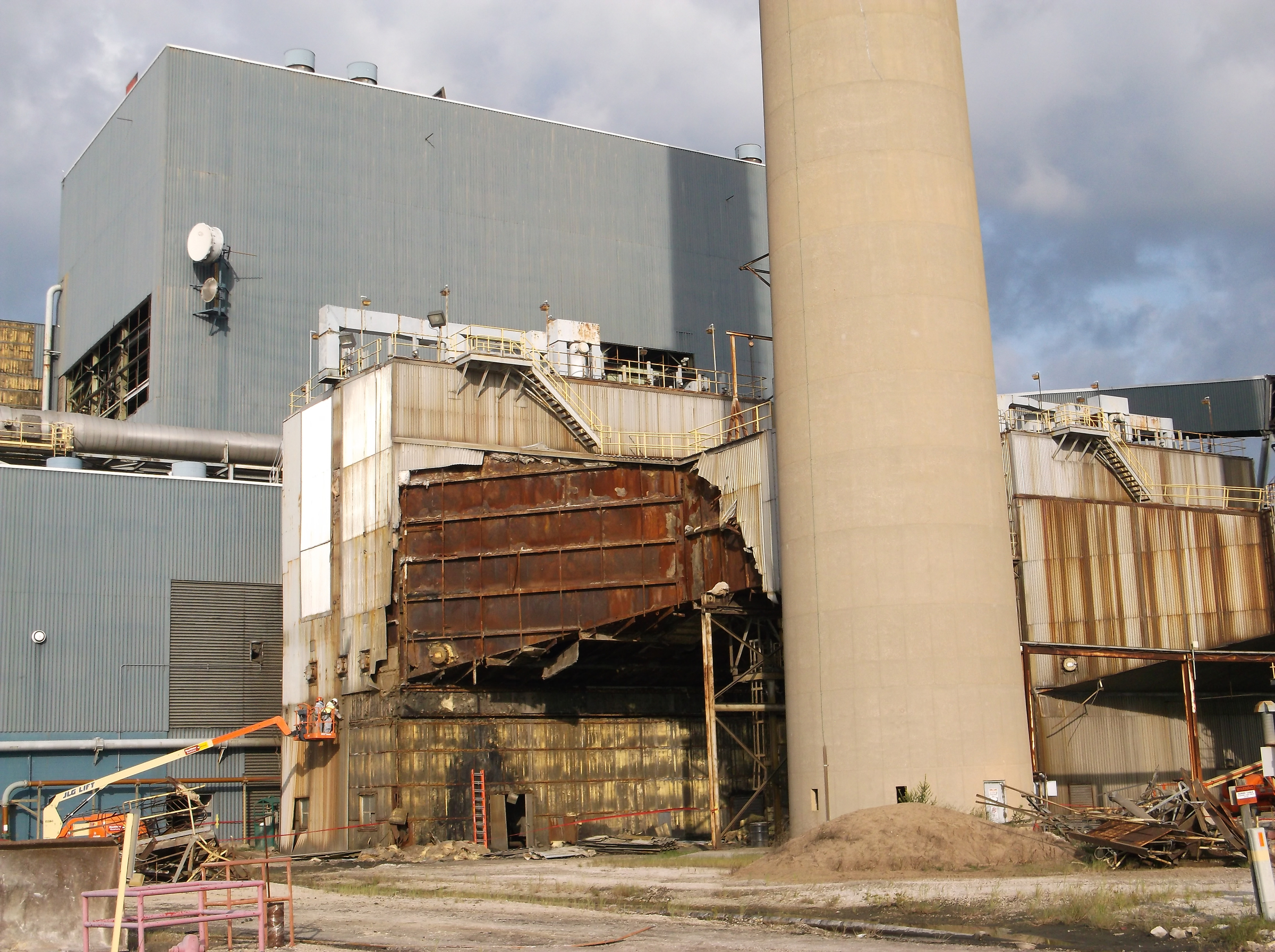 Overview:
Hoosier Energy hired KERAMIDA to provide due diligence services and environmental oversight services for the decommissioning and demolition of the Frank E. Ratts Generating Station, which functioned as a coal-fired power plant in Petersburg, Indiana beginning in 1970, before going off-line in 2015.
Project Details:
Prior to the decommissioning and demolition of the Ratts facility, KERAMIDA conducted environmental due diligence services including a Phase I Environmental Site Assessment and a Phase II Subsurface Site Investigation. The facility had previously been used as a source for burning oil containing polychlorinated biphenyls (PCBs). KERAMIDA sampled for PCBs, hexavalent chromium (Cr6+), and other potential contaminants of concern at various locations throughout the facility during subsurface investigation. KERAMIDA also conducted a pre-demolition asbestos inspection, lead-based paint, and hazards materials assessment to identity asbestos containing materials and other materials that needed to be abated/removed prior to demolition.
The 9-story, 250 megawatt generating facility functioned with twin steam electric turbine generators and was decommissioned and demolished from 2016-2017. Over the life of the abatement project, KERAMIDA's trained and certified asbestos professionals were on-site to assist as third-party asbestos abatement experts. Site work included containment area inspections, certification and verification of abatement workers, air sampling, final clearance sampling, and on-site Phase Contrast Microscopy (PCM) microscope analysis. Asbestos area air monitoring was conducted to document airborne fiber concentrations outside of the containment during asbestos abatement activities. Visual inspections were performed to verify the cleanliness of the abatement activities, and clearance air sampling was conducted to document that the containment areas met the Environmental Protection Agency (EPA) and State of Indiana clearance criteria for re-occupancy.
KERAMIDA also provided stormwater inspections required for compliance with the National Pollutant Discharge Elimination System (NPDES) general permit for stormwater exposed to construction activities pursuant to 327 IAC 15-5 (Rule 5). KERAMIDA ensured the provisions set forth in the approved SWPPP were properly implemented by conducting weekly stormwater and qualified rain event inspections.
Site deconstruction resulted in the generation of significant recycling/waste streams. KERAMIDA assisted with the Waste Management Plan implementation and oversight for recycled materials, hazardous wastes, universal waste segregation, solid and hazardous waste management, sampling, transportation, manifest/bill of lading management, and disposal waste profiles. KERAMIDA also provided remediation oversight for the excavation and removal of petroleum impacted soil and conducted confirmatory sampling to document compliance.
KERAMIDA completed the scope outlined in the contract according to the schedule and budget.
At the conclusion of the project, KERAMIDA provided a Final Report Summary to document the decommission and demolition process. The report included records and documentation associated with asbestos abatement compliance, which included pre-abatement records, asbestos air monitoring, asbestos final clearance, manifests and disposal records. In addition, the report memorialized compliance with the approved SWPPP including stormwater inspection forms, and waste management which included records of waste manifests, disposal bills of lading, and waste profiles.
KERAMIDA provides air quality management services to clients worldwide. Our air quality professionals have over 25 years of experience with air permitting, compliance, reporting, coke-oven inspections, construction permits, emission inventories and reduction strategies, stack testing, air quality modeling, and more.
KERAMIDA is a trusted provider of testing and remediation management services for asbestos, mold, and lead. Our team has extensive experience with mold inspections, mold testing and removal management, indoor air quality sampling and monitoring, asbestos inspections and removal oversight, lead testing and abatement.
KERAMIDA is full-service environmental consulting firm with decades of Due Diligence experience performing Phase I & Phase II environmental site assessments and remediation services. Minimize risk and protect yourself from liability in any commercial real estate transaction where potential environmental risks are a concern.
Companies considering plant closures can rely on KERAMIDA to undertake all services throughout the deactivation, decommissioning, demolition, and redevelopment process, using our innovative and cost-effective phased approach that saves both time and money, and ensures a successful Facility Decommissioning project.
KERAMIDA provides complete solid waste and hazardous waste management services for a wide range of industries. Our engineers are highly experienced in waste management evaluations, landfill monitoring, landfill design, superfund site cleanup, and RCRA closure. Visit our website to view our waste management experience.