Our team of certified, nationally recognized experts provide stormwater inspections, consulting and training to clients nationwide.
Our Stormwater Services include:
Stormwater Inspections

NPDES Stormwater Consulting and Compliance

NPDES Stormwater Permitting Assistance

Stormwater Monitoring & Analysis

Stormwater Best Management Practice (BMP) Design & Oversight

Stormwater Management Program Development & Implementation

Stormwater Compliance Services

Regulatory Enforcement Action Assistance / Services

Annual Compliance Reporting and Training

Annual Comprehensive Site Compliance Evaluations
KERAMIDA's Stormwater Certifications include:
Qualified Industrial Storm Water Practitioners (QISPs)

Construction General Permit Qualified SWPPP Practitioner (QSP)

Qualified SWPPP Developers (QSDs)

California IGP Trainers of Record (IGP ToR)

Certified Professional in Stormwater Quality (CPSWQ)

Certified Erosion, Sediment and Stormwater Inspector (CESSWI™)

Certified Inspector of Sediment and Erosion Control - In-Training (CISEC-IT)
Stormwater Management & Enforcement
KERAMIDA has provided assistance to hundreds of industrial and municipal clients in the preparation and negotiation of NPDES permit applications, stormwater management strategies, and the preparation of SWPPP and SPCC plans. KERAMIDA has also provided extensive evaluation of stormwater management and discharges, facility expansions, and past practices, and has provided litigation support in a multi-million dollar U.S. EPA enforcement case.
Our professionals have received intensive training on stormwater sampling methodology and have conducted the sampling and prepared the necessary applications on behalf of numerous industrial clients, as well as trained industrial representatives for sample collection. Our Los Angeles and Sacramento stormwater professionals are experts in providing stormwater compliance services to businesses in California.
Stormwater Sampling Guidance
KERAMIDA will work with you to choose the best sampling location.
Your facility should be sampling from locations that best represent its industrial operations. It is best to regularly evaluate your sampling locations as your industrial operations grow and evolve. Since you know your site the best, KERAMIDA will work with you to find the best sampling locations since a collaborative effort better ensures representative sampling results.
Stormwater Sampling Case Studies:
Die Casting Facility: The previous sampling location was within an employee parking lot, which increased the amount of O&G, TSS, pH, and metal particulates in their sampling results. KERAMIDA collaborated with the client to move the sampling location to the Western portion of the facility, which better represented its industrial processes. The facility is now back in Baseline.

Stamping Plant: The previous sampling location was at the end of a non-industrial parking lot, which accumulated particulates from nearby dumpsters and storage, and was also prone to aerial deposition from a nearby airport. KERAMIDA worked with the facility to move the sampling location to the gates leading to the parking lot, which properly represented their industrial processes. The facility is now on its way back to Baseline.
Sustainable Stormwater Solutions
In more and more states and municipalities, sustainable options for long-term stormwater compliance are becoming available in the regulations. KERAMIDA's experienced stormwater engineers and professionals can assist clients with stormwater infiltration systems and other sustainable stormwater solutions.
Subsurface Infiltration Systems
Stormwater infiltration systems capture or retain stormwater from a site and direct the water to subsurface infiltration fields. This process significantly reduces or eliminates discharges of stormwater to surface waters. Properly engineered, planned, implemented and managed, this option has the added benefit of recharging area groundwater.

SWPPP Development and Modification
KERAMIDA's stormwater professionals are experts in developing effective Storm Water Pollution Prevention Plans (SWPPPs) that are easy to understand and implement. Our experienced staff also provides comprehensive site-specific SWPPP training to facility personnel.
Storm Water Pollution Prevention Plan (SWPPP) Content
In many states, the content of the Storm Water Pollution Prevention Plan (SWPPP) is specified in the regulations, known as the Industrial General Permit. The SWPPP must contain certain elements, including:
Identification and detailed description of potential pollutant sources

Stormwater monitoring and sampling plan, which includes:

The pollutants that will be analyzed in the stormwater

The location of sampling locations and drainage areas that flow to those locations

How samples will be collected

Analytical methods and exceptions.

Identification of the receiving water and any impairments

Associated Best Management Practices (BMPs)

Chosen to mitigate or eliminate the impact to stormwater discharge from those sources

The Pollution Prevention Team and the role(s) of each person on the team
How does KERAMIDA develop the best SWPPP for your site?
Each facility is unique, so obtaining a "whole-picture" view of a site is key. Our stormwater professionals begin each project with a site visit to:
Conduct a thorough walk-through to gain a critical understanding of the entire site

Observe and note how stormwater moves across the site

Determine how facility operations can impact the quality of the water that is discharged from the site.
By gaining a deep understanding of the site, KERAMIDA's professionals are able to help facilities maintain their operations while successfully minimizing or eliminating industrial impact to discharge stormwater.
California IGP Stormwater Compliance
California's Industrial General Permit (IGP) was amended in 2015 to drastically change the storm water monitoring and reporting requirements for covered facilities. This meant that facilities previously covered by the permit had to dramatically change their storm water management program, a feat that complicates a facility's already busy schedule and duties.
KERAMIDA helps a broad range of industrial facilities to reach compliance under the IGP and to establish effective storm water compliance plans - where a complete overhaul of preexisting storm water programs is often necessary. Learn more about our California IGP Stormwater Compliance Consulting ›
What our Stormwater Management clients are saying: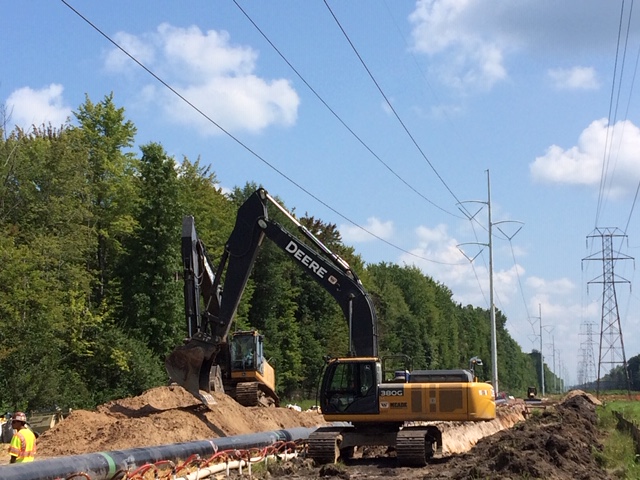 KERAMIDA's Sacramento and L.A. offices provide Sustainability, Environmental, Health and Safety services tailored to meet the needs of California business and industry. Our Qualified Industrial Storm Water Practitioners (QISPs) assist with stormwater compliance, industrial stormwater permitting, SWPPPs, and more.