Environmental Consulting for Wabash Landing Development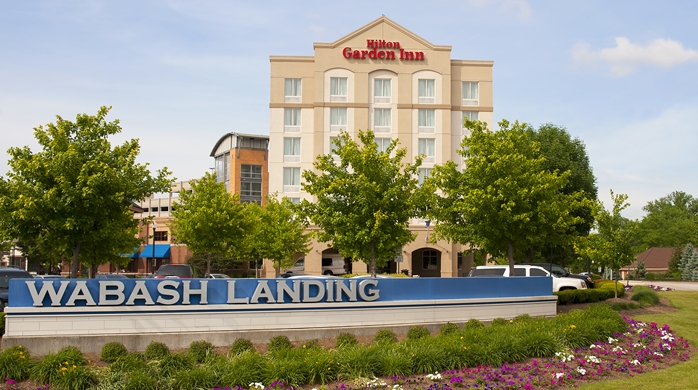 Overview:
The Wabash Landing mixed-use development transformed a significant portion of a blighted 80-acre site along the Wabash River into a new destination place.
Since 2002, residents and visitors of the waterfront along the Wabash River in West Lafayette, Indiana, home of Purdue University, step into a vibrant up-scale apartment community, with restaurants, retail shops, a nine-screen movie theater with stadium seating, a child care center, beauty salon, medical offices, a six-story Hilton Garden Inn, a 650-space parking garage and a pedestrian bridge crossing the Wabash. This area has become the focal point of a revitalized community and downtown that is both a great place to live and a destination for visitors.
Step back to the 1990's and in its place was an old landfill, abandoned department stores, and various closed businesses which had polluted the area. Strapped with the changing needs of a community and the desire to improve blighted areas, the City of West Lafayette developed a strategy for this entrance area to the city and assembled a team of advisors and stakeholders, including KERAMIDA, to plan the development of this critical entrance to the city area. Upon completion, the development at Wabash Landing resulted in more than $108 million dollars of public and private investment.
The planning, design and implementation of Wabash Landing has won multiple local, regional and national awards, including:
National League of Cities: Gold Award (James G. Howland-2004)

Indiana Association of Cities and Towns: Community Achievement Award (2003)

Indiana Main Street Council: Public Private Partnership in Downtown Revitalization Award (2003)

Indiana Land Use Consortium: Models of Success Award (2002)

Indiana Planning Association: Outstanding Project Award (2002)
Project Details:
Award Winning Brownfield Redevelopment
KERAMIDA determined the Environmental Risks, and developed the Strategic Planning on how the property should be developed to Mitigate Environmental Risks. KERAMIDA also performed the necessary Remediation.
Praise for KERAMIDA from the City of West Lafayette
KERAMIDA offers innovative, comprehensive, and cost-effective solutions for the cleanup and redevelopment of EPA Brownfield sites. Our team of environmental experts have extensive due diligence and remediation experience working with large manufacturing facilities, Superfund sites, gas stations, dry cleaners, and more.
KERAMIDA provides a full spectrum of support for the development of environmentally impacted properties. Our services include project funding identification, environmental due diligence, site planning, building decommissioning, sustainability planning, EHS construction oversight, stormwater management, and more.
KERAMIDA's environmental engineering and remediation services are led by an experienced team of professionals with a wide range of expertise from Superfund Site cleanup to ERD remediation for TCE & PCE impacted sites. Our groundwater and soil remediation solutions for contaminated sites are creative and cost-effective.
KERAMIDA is an EHS consulting and engineering firm specializing in construction management services for developers, contractors, A&E firms, and property management companies. Our team has over 30 years of experience providing environmental and safety oversight in the construction of buildings, highways, and pipelines.